Can I start by saying how much I love this dress?! This is the Janie Dress by Mouse House Creations! I love the style and the fabric and how absolutely beautiful Miss Sassy Pants looks in it. I also love how these pictures turned out. Let me tell you, this is procrastination at work here. I had been watching all the other testers post their beautiful dresses and I just hadn't found the time. I had my fabric, but needed the time to sit and sew. Friday I finally had the chance and it is such a quick sew, I easily could have fit them in earlier! It was too late for pictures on Friday, so plan was for Saturday. Saturday came and we cleaned house all day attempted to clean… but it was gorgeous out and we enjoyed a visit from my childhood friend and then just relaxing. SO with the sun setting fast and my child wanting to play with the neighbors, I threw it on her and we went to the end of the driveway and snapped away. And… I love them! She can be such a pistol!
Seriously, how cute is this?! I love the long sleeves and cowl neck for the upcoming winter and it will be cute over knit tights when it actually starts to feel like November! But this pattern has so much more!
Sizes: 6 months – 12 years
Necklines: Basic Neckline, Ballet Scoop back, Peter Pan Collar, and Cowl Neck
Sleeves: Short, 3/4, and long
Skirt Length: Peplum and At the Knee
Skirt Style: Circle and Gathered Circle
Bonus: IT HAS POCKETS!! And… The gathered skirt can be made using woven (which I used) as well as the collar. This makes the number of combinations infinite!
For any sewing friends: I highly recommend it!! Check it out here! It is on sale for $7 until Friday (11/11/16), then it goes to full price at $9. <—-Still worth it!
If I were a dress girl, they would all have pockets!
And the circle skirt gives this dress awesome twirl factor! What little girl doesn't love to twirl in a beautiful dress?
The fabric I used went together so well! I actually didn't buy them together or intend for them to be used together, but I am glad I did. I bought both from Modern Textiles but I got the skirt fabric before Miss Evie was born. I dropped the kids at daycare and enjoyed a day all to myself. Manicure, pedicure, Beans Coffee, and quiet shopping all by myself! It was a remnant and too pretty to pass up, even if I didn't have a project in mind. Then this project came along and I headed back to Modern Textiles in search of the perfect fabric (which they always have) and bought the mustard knit and a beautiful art gallery Aztec knit.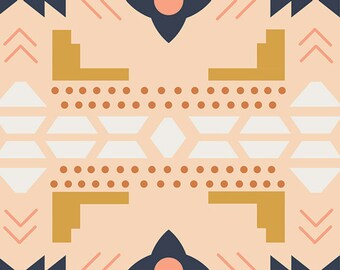 I still love these two together, but something about them didn't work for this. Then I remembered I had the woven and it was just enough. Meant to be! Plus, now I have some beautiful knit in my stash for future Janies!
I love this pattern, and better yet, I loved testing for Hayley of Mouse House Creations! She was very present in the testing group and very receptive of feedback! I certainly won't hesitate to test for her again or to buy any of her other patterns! You can check out her website and blog here.
Now more pictures because I seriously loved them all!!
See more tester versions on Hayley's blog post here.
Also here: A Jennuine Life, Anna's Heirloom Boutique, The College Seamstress, Anne-Marie Sews
Disclaimer: I recieved this pattern free in the process of testing, but all opinions are my own! *Affiliate links in post